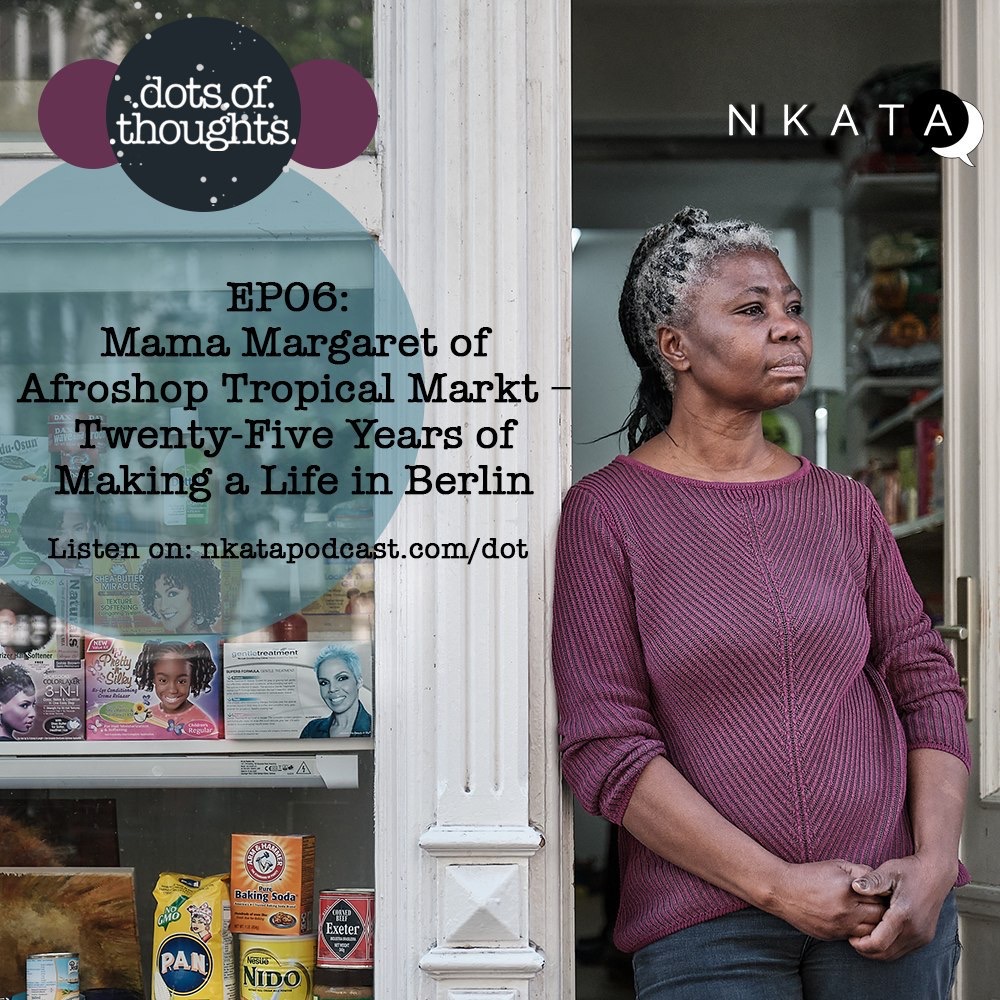 For 25 years, Madam Margaret Opambour-Adjei has run the Afroshop Tropical Markt, in Neukölln Berlin, where she sells foodstuffs, cosmetics and fabrics mainly from West Africa. Originally from Ghana, she migrated to Germany in 1988.
In this episode, Emeka Okereke visited her shop during which they discussed various aspect of the movement of African food across borders.
"We are quite conversant with the movement of bodies and people back and forth borders in the context of migration – in this case, Africans. But there is another angle to it: the movement of food. Africans have always carried their food with them when they travel or migrate. If there are two luggage allowances [for a flight], it is most likely that one of the luggage will be filled with foodstuff."
Their conversation was a glimpse into her life:
The challenges of running such a business in Berlin; the trajectory of the transportation/distribution of African foodstuff and the agents involved.
Some of the governmental policies which constitute bottlenecks.
Her shop as a Pan-African Space, as a space of conviviality.
Her connection with Ghana, her home country.
Incapsulating this is the fact that the conversation took place on the so-called #blackoutteusday, and in the same week when many people in the world are protesting under the "Black Lives Matter" banner.
While this is commendable, it is crucial to articulate other ways black people are making lives matter – in their everyday lives. The likes of Madam Margaret may not be able to go for the placard-waving match-protest protest in Berlin. But she has kept a business running for 25 years in Berlin – even as the business is frustrated by imperialist-capitalist realities. She Keeps her head up – for herself and those who depend on her as far as in Ghana. She makes "Lives Matter".
This podcast is a small attempt to honour her own way of making lives matter.
Guest: Margaret Opambour-Adjei (Berlin)
Host: Emeka Okereke (Berlin)
Text: Emeka Okereke
Photography: Emeka Okereke
Music: Sir Kupeski
Graphic Design: Innocent Ekejiuba,
Listen on: nkatapodcast.com/dot
Support the project: nkatapodcast.com/patreon